The multinational Inditex is already betting on the Metaverse; its most iconic brands (Zara and Pull&Bear) already have a place in this virtual environment by betting on virtual replicas of the physical products already available on the physical products that are already available on the Zepeto platform, where users can wear products on their digital avatars. products in their digital avatars.
Just half a year ago, it was unthinkable that giants such as Nike, Zara, Carrefour or JP Morgan, to name a few, would set their sights on this universe and environment. Everything seems to indicate that there is no turning back: the real revolution will be the use of an Extended Reality (Augmented Reality) experience. Extended Reality (Augmented, Virtual or Mixed). This makes us rethink whether it is necessary or redundant to enter the Metaverse and immerse users/customers in a new win-win experience or not.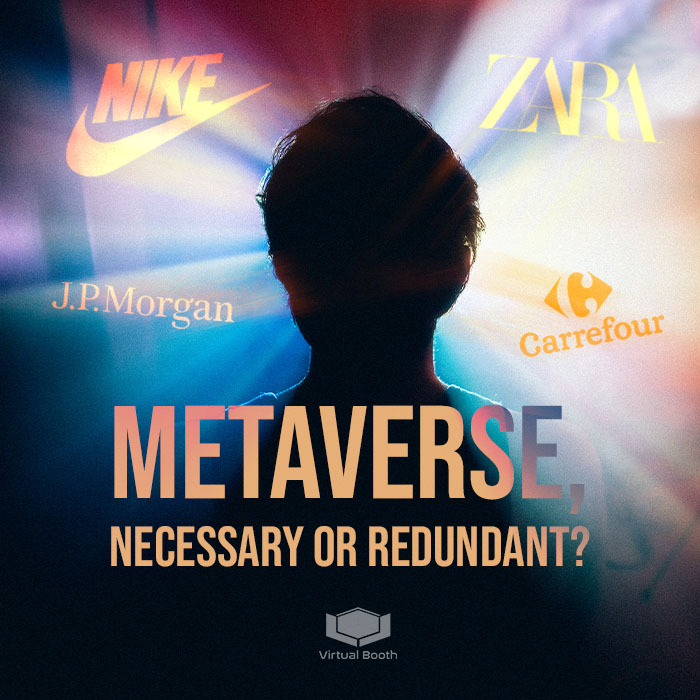 From Virtual Booth we are going to propose you the benefits and disadvantages that can make you decide to take the plunge.
Pros:
Adaptation of your products and services regarding the use of immersive technology and the Metaverse. Some companies adapted their services when the Internet arrived, others pivoted by creating new business models and, finally, many others disappeared because they did not know how to understand how to use immersive technology and the Metaverse, many others disappeared because they did not understand the implications of the digital revolution.
Loyalty for your brand, product or service. Virtual Reality can bring a gigantic value to every company with the immersive experience that is not only a buying or viewing process. is not only a purchasing or visualization process. It is an experience with hundreds of possibilities for the user that add value to the Customer/Company relationship.
Virtual meetings and events. After the confinement caused by the pandemic, metaverses are an alternative to improve the virtual experience in companies. the virtual experience in companies, educational institutions and others. Hold massive events without the logistics of travel or the risk of crowds.
Cons:
Decrease in real interaction. There is a risk that real interaction may decrease for those who spend a lot of time in the virtual world.
Privacy and security. Special attention must be paid to the management of the system's privacy and security policies, since virtuality can create risks for users.
In Virtual-Booth we bet on this initiative to promote the entry into the metaverse and interactive virtual reality, we think of the real potential behind the virtual world. In the real potential behind this initiative and in the more tangible approach to marketing and advertising. One of the first steps that Virtual-Booth offers is the Virtual Booth; easy, intuitive and configurable.
And you, do you think it is necessary or redundant?